Micro Duct For FTTH Works Pipes:
Features and Specifications KIEL Micro Duct for Fiber To The Home Network (FTTH)
KIEL Micro Duct is a concept for the installation of fiber optic distribution networks in all types of buildings i. e. multi-storey apartment blocks, office blocks, or factory premises. These are very small aperture HDPE ducts with Ribbed Inner wall. Micro Duct is a nonmetallic flexible raceway manufactured from High Density Polyethylene (HDPE) for use in underground and inner duct applications.
KIEL Micro Duct with ribbed inner wall offers superior protection, increases pathways of existing duct systems, allowing extra channels for future cabling needs, and is ideal for jetting cable. Ribbed inner wall aids in easier blowing & jetting of micro ducts & allows longer pulling distance resulting in quality installation at lower cost. Ribbed Inner wall of ducts withstand typical pulling loads and is highly resistant to crushing forces.
KIEL Micro Duct is the only cable management system you need. These ducts can be bunched & blown in various combinations & colors thus allowing extra channels for future cabling requirement needs & increased pathway. KIEL Microduct Pipe are available in various sizes, colors, and options,
Used as underground cable protection and management For Signal and Telecom, Power & Optical Fiber Cables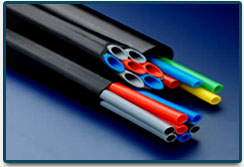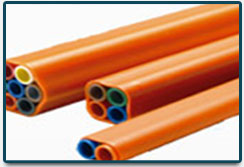 Future Path Provision:
Future Path is a bunch of Micro Ducts sheathed together, providing multiple (future) pathways. Micro Cable(s) can be blown / pulled anytime in the individual Micro Ducts, as the network grows, without the additional cost of constructing a new duct route.
Anti-Rodent Properties:
Ducts are generally installed by direct burial method. At many places rodents are present even at depth of more than one meter below ground level. KIEL anti rodent ducts provides the best solution to such problems by incorporating Anti Rodent properties in the pipe to dissuade rodents from chewing it. Antirodent ducts are tested at CAZZRI Jodhpur for Toxicological Studies.