Polyamide Conduit
Polyamide Conduit
Flexible Corrugated Polyamide Conduits
Gemini pipes also manufactures of Nylon corrugated conduits in 6 diffderent sizes.
Flexible corrugated conduit made of special modified Polyamide PA6 (Popularly Known as nylon).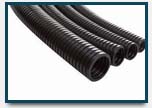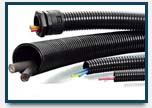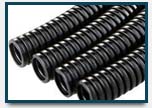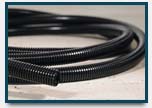 Features-
Available in various sizes.
Self extinguishing & free of Halogen, Phosphorus, Sulphur and Cadmium.
Temperature range -40 degree C to +120 degree C
Mecahnical/ shock/ Abrasion/ impact resistant according to EN-61386-1/23
Available in UV Resistant (Black version) and other assorted colours
Free from any hazardous or toxic chemicals, solvents and oils.
Advantages-
Prevents damage of inside cables from corrosion/ abrasion/ Flame propogation/ Changing weather/ hard impact/ etc.
Reduces capital expenditure.
Light weight & high Flexibility.
Easy to join with each other.
Minimizes installation time & cost.
More robust, durable & Provides long lasting life.
Chemical inert & environmental safe.
Accessories-
1. Metal (Nickel Plated Brass) straight connectors
Connectors are manufactured using special grade polyamide material which offers high impact strength. Metal offer extremely high connection strength ensuring safety & reliability.
Characteristics-
Material : NBR Elastomer
Temp : -30 degree C to +105 degree C
Colour : Black
Offer IP68 Protection Conduits & Connectors
2. Sealing rings
3. Metal (Nickel Planted) Hexagonal Locknuts-
Nickel Plated Brass hexagonal locknuts designed to offer high strength and reliable connections.