Single Wall Corrugated (SWC) Pipes:
Single wall HDPE corrugated sheathing ducts Used in internal bonded post tensioning of tendons in prestressed concrete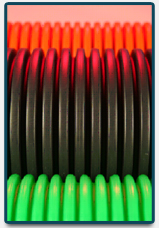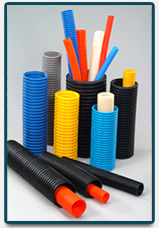 SINGLE WALLED CORRUGATED PIPES are being used as Sheathing Ducts for internal bonding in post tensioning of tendons in Prestressed concrete in projects such as bridges, flyovers, offshore platforms, Via ducts, tunnels, underpasses etc.
Corrosion is a great threat to the reinforced concrete structure. The metallic sheathing ducts in spite of galvanizing invariably gets corroded in few days. In most of the seminars and workshop, the experts have already confirmed this and deliver endless speeches on corrosion threat.
SWC pipes and HDPE sheathings ducts manufactured by us have already been used successfully in various projects in India and approved / specified to be used in almost all the major projects including Delhi Metro Rail Corporation (DMRC) & Konkan Railways in place of Metallic duct sheathings.